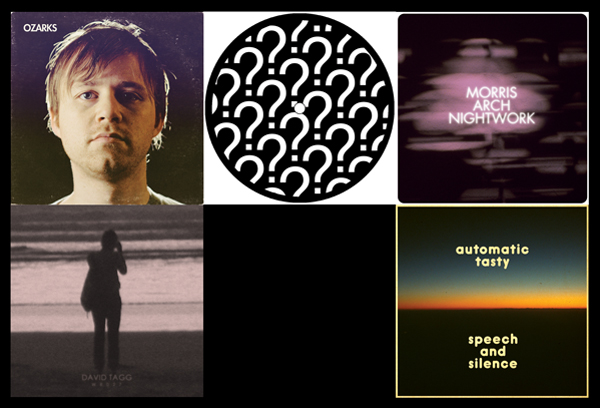 Hello Everyone,
Just wanted to take a moment to announce that we are hard at work on some upcoming new releases here at the WR home base. Here are a few releases that will be arriving shortly…
_______________________________________________________________
Coming soon to LP:
First up, we have the debut full length album by Ozarks. This will be a limited edition LP containing 15 tracks of bedroom baroque-pop psychedelia by Robbie Augspurger. 300 black LPs housed in full color jackets with inserts featuring some of Robbie's weird 1970s giallo-inspired photography. You won't want to miss it!
Check out the Ozarks album trailer here!
Can't get enough? Check out the Ozarks LP infomercial here featuring Robbie looking like Benny Andersson, playing a bunch of songs that aren't on the album, alone at the piano (on a beach).
Also coming soon we have a 12″ edition of EOD's Qustionmarks EP that was released digitally last year. Six uber-melodic hard hitting acid tracks by our man from Norway: Stian Gjevik (aka CN)! This release will be limited to 300 copies on black vinyl in black sleeves.
All I can say is that these tracks have been on heavy duty rotation since they first arrived at WR. Not sure how else to praise such a solid release! Absolutely essential listening!
_______________________________________________________________
Coming soon to Cassette:
New to WR, Morris Arch Nightwork (Izaak Schlossman, aka Starcircleanatomy) makes his debut appearance with his self titled full length album featuring six generous tracks of dense atmospheric abstract techno. These complex yet tastefully minimal tunes are perfectly suited for dance floors and headphones alike. Limited to 100 Cassettes. Highly Highly Recommended!
David Tagg makes his first appearance on WR with an insanely beautiful double album of ambient synth drones titled simply WR027 (the catalog number of the release). Formerly released as a 25 copy only double CD as EEDCD-07 at the now defunct Expanding Electronic Diversity label, this double cassette reissue is comprised of 8 long-form drone works constructed of synthesizer, field recordings and reel to reels. As if this album could have gotten any more beautiful than it already was, our man Brian Grainger did an absolutely breathtaking mastering job for this cassette reissue. Limited to 100 copies. Heavenly…
And last but certainly not least, Jonny Dillon is gracing WR with a brand new full length album as Automatic Tasty! "Speech and Silence" is a 10 track album of some of the best braindance tunes we've heard in forever (aside from his two new vinyl releases at Lunar Disko of course!). These tracks are loaded with bouncy acid hooks and bubbling hyper-color melodies. Can't recommend this one enough!
Check out the Speech and Silence trailer here!
_______________________________________________________________
You can expect these releases to begin to surface in the next few weeks.
Thanks for reading! More information and sound samples coming soon.
– WR