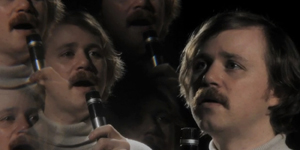 Profile
Bedroom pop genius and accomplished photographer Robbie Augspurger has been making home recordings for over a decade. As a teen he spent hours analyzing stereo mixes of Beatles albums, listening to each song one channel at a time on his dad's audiophile hi-fi system. Since then, Robbie has recorded a wealth of releases under a variety of monikers and side-projects. His latest project, Ozarks (joined by long time friend and collaborator Eric Adrian Lee), offers up some of his most complex and well-crafted songwriting to date, emerging with a very unique modern baroque-pop sound.


Look for a 12″ LP on July 10 and the release show on July 13, with shows continuing throughout the summer.

Reviews! Interviews! Press!
"All my friends are in prison/All of my friends are a prism," sings Ozarks' Robbie Augspurger in a shy, cracking falsetto at the beginning of "Pyramids of Love," the group's contribution to an upcoming split seven-inch with Portland musician Davis Hooker. It's the first taste of this new project, and immediately it's a far cry from the noisy eccentricities of Augspurger's work with soundscaping weirdos Wolf Choir.
Which isn't to say it's not a bit quirky. Bobbing along on a fey little keyboard passage, it sounds like something Wayne Coyne would've made by himself late at night circa The Soft Bulletin if he didn't love audacity as much as he does. It's an unassuming slice of bedroom pop that manages to charm in just two brief, simple minutes. –Matthew Singer
Tonight marks the release of Portland band Ozarks' split 7-inch single with singer/songwriter Davis Hooker, out on local imprint Wil-Ru Records. Both sides are equally strong: Ozarks' "Pyramids of Love" is a woozy, winding post-psychedelic comedown, with a hushed vocal and staccato organ building to a carefully lush chorus. It's a song that gets progressively better with each listen. Meanwhile, Davis Hooker—formerly of A John Henry Memorial—might even be more subdued on his side of the 7-inch. A slow, folky number in three, "Amis" sounds like Hooker whispering right up against the speaker, were it not for the rowdy chorus of singers off in the distance. It's an excellent split single, with the promise of further releases to come on Wil-Ru. NL
Ozarks of Portland, Oregon leads audiences through territories of delicate, bedroom psychedelia. Songs of warm keys, songs of desire, songs of single measure guitar solos. Robbie Augspurger has a fragile voice comparable of John Ringhofer (Half-Handed Cloud) or a less manic Daniel Smith (Danielson Famile). Augspurger's songs are an inspired take on the easy-going, 60′s pop sentimentality. Take a seat on the shag carpet and let it wash over you. –Jon Manning